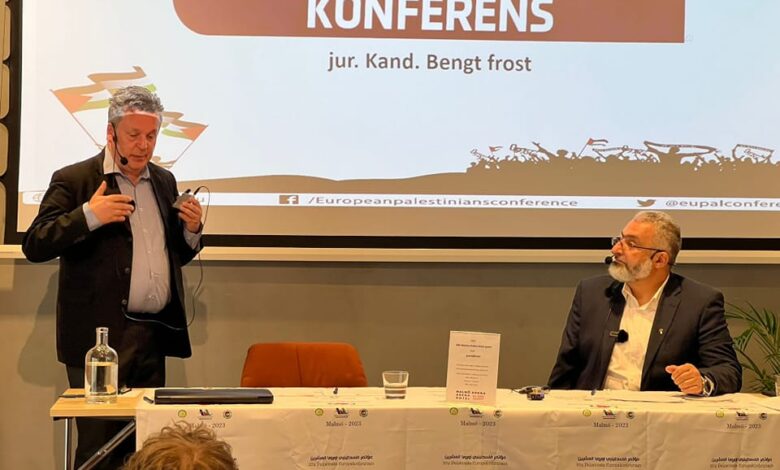 The Palestinians European Conference held a press conference on Monday, 5th June 2023, in the Swedish city of Malmö, to discuss the latest developments regarding the severe attack on the conference and its organizers.
The conference featured Amin Abu Rashid, the President of the Palestinians European Conference Foundation, and Swedish lawyer Bengt Frost, the conference's legal advisor.
During the conference, Amin Abu Rashid affirmed that the conference operates within the framework of European laws and is not affiliated with any institution, entity, or faction. He emphasized that if it were otherwise, the conference would not have been able to continue and convene for twenty years in major European capitals and cities, with continuous media coverage of all its activities from A to Z.
The conference's president denied that the Palestinians European Conference is affiliated with Hamas, as claimed by the Israeli lobby media in Sweden. He confirmed that the circulated image of him with Ismail Haniyeh dates back to the period when the latter was the recognized head of the Palestinian government by the international community. Therefore, there are many photos that captured Haniyeh with European and American officials and others.
Amin Abu Rashid also refuted all the allegations directed at the conference by presenting the conference's agenda on an electronic screen displayed in front of the media outlets that covered the press conference. He considered these fabricated accusations as a clear indication of the conference's strong message reaching its intended audience.
Furthermore, Abu Rashid stated during the press conference that the failure of their methods and lies is the greatest success for Palestine and the message of return carried by the conference. He also emphasized the continuity of the conference's journey despite all the challenges.
On his part, Swedish lawyer Bengt Frost stated that the conference has the right to object to these allegations, and the legal basis for using the right to object is available, especially with the Swedish media's interest in the 20th edition of the Palestinian-European Conference, recently held in the city of Malmö, Sweden, and the subsequent press conference.
The city of Malmö, Sweden, hosted the 20th edition of the Palestinians European Conference on 27th May last month amid a fierce attack on the conference by the Palestinian Liberation Organization and pro-Israeli lobby groups in Sweden. However, the massive public turnout denied these accusations and demonstrated the conference's integrity and its dedication solely to the Palestinian cause and the Palestinian flag.
You can watch the full press conference through the following link:
Watch the press conference